ALLOY >KIND TRICKS and BODILY REALITIES in the VANGUARD PARTY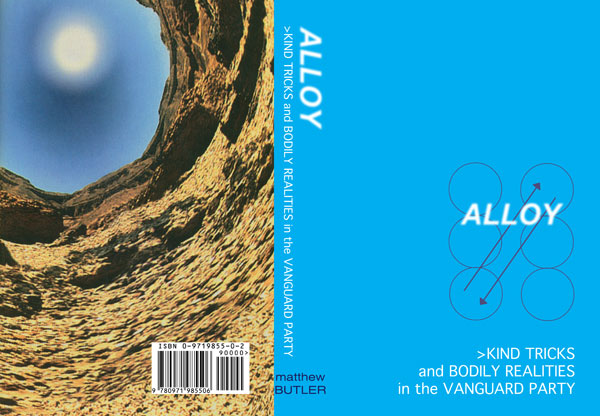 A project funded by the Reggie Amos Project Grant for Intermedia Development and originally distributed through Printed Matter. The manuscript was debuted at the Version>02 Festival at the Museum of Contemporary Art Chicago. The first printing was used in a drawing class taught by Nathan Peck at St. Xavier University. The second and third printings were distributed through the 'zine shop, Iowa Killed Buddy Holly.
Inspired by A Thousand Plateaus: Capitalism and Schizophrenia, Alloy was an early experiment in the nascent world of computer-generated novels. I'm happy to say the scene is alive and well over a decade later. It's an artist's book that weaves together human and computer writing to create a quasi-fictional narrative or perhaps postmodern critical theory. It was created out of dozens of passages, quotes, memories, ramblings, and scraps of information pieced together using Babble!. The process for this has continued on in the software project Open Wound.